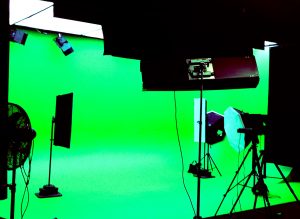 Island Station Media Lab has a variety of in house lighting and equipment solutions to assist our clients with their projects. Please consult our list of gear to determine how to best augment your production. Use of our equipment is at the discretion of Island Station Media Lab and not guaranteed with studio rental time.
Cyclorama (overhead) pre-lit by five diffused "no-flicker" CFL panels equipped with 30 KinoFlo T8-32K55 bulbs, color balanced to daylight. Tungsten color option available. The cyc by default is green. It can be painted your choice, white or grey, for $250 with a 72 hour notice to allow for dry time. Includes paint in and restore.
Upstage cyclorama pre-lit by four  hanging dimmable Fresnel fixtures.
In House Light package:Two 4×4 Kino Boxes (CFL). 4 soft boxes (CFL) and 2 side fills (CFL).
1K Fresnel Lighting Fixtures (4). Available for rent outside the facility.
Electrical. 170 amps available on hand. 50 amp 220v spider box available at additional cost. Want even more power? Contact us. Options are available.
Gaffers Closet includes white and green seamless backdrops, ladders, cards, flags, drapes, modifiers, tape, C-47s, sandbags, miscellaneous soft goods, and basic gaff equipment.
Salon room includes hair washing sink, adjustable salon seating, and color corrected lighting (to match the overhead lighting of the Cyclorama).
Prop Department includes 2 racks of costumes and assorted hats.  A limited amount of set pieces are available (inquire). Mini handheld hazer (fog machine). Workbench and shop is located next door to allow costume and scenery alterations.
Parking Lot and Roll Up Door. We have the ability to park a car on our cyc through our roll up door. We can also accommodate large industry vehicles on our parking lot, including up to 2 semi trucks.  Additional parking across the street in neighbor's lot can be reserved with proper notice.
Audio Studio. Apogee Ensemble converters, Allen & Heath GL3300 Console (British), 8 tracks reel-to-reel half inch tape deck, Multiple DAWs (Logic Pro, DP, ProTools, Reaper, Sonor), outboard compressors, pre-amps, assorted condenser mics, RE-20 for voice overs, studio headphones. Clients are allowed to bring in their own equipment to supplement and augment.
Video Cameras. Available for small rental fee is a house DSLR camera which films in 1080. Currently the Panasonic GH-3 with Nifty Fifty lens is available as our house rental.
Stunt Cams. Different than a production grade camera, stunt cams are useful for a special effects shot or an interesting look.
Party Cam. A Sony 3.0 megapixel Handycam, useful for recreating home movie style footage.  3gp file format (mpeg).
Party Cam HD. Insignia Flip Camera. Shoots in 720p.
Security Cam.  TV quality security cam. Color. Audio. Night vision.
Hot Wheels Video Racer. (2 available).  Color. Audio. 640×480 (30fps). 320×240 (60fps). Avi file format.